COACH WANTED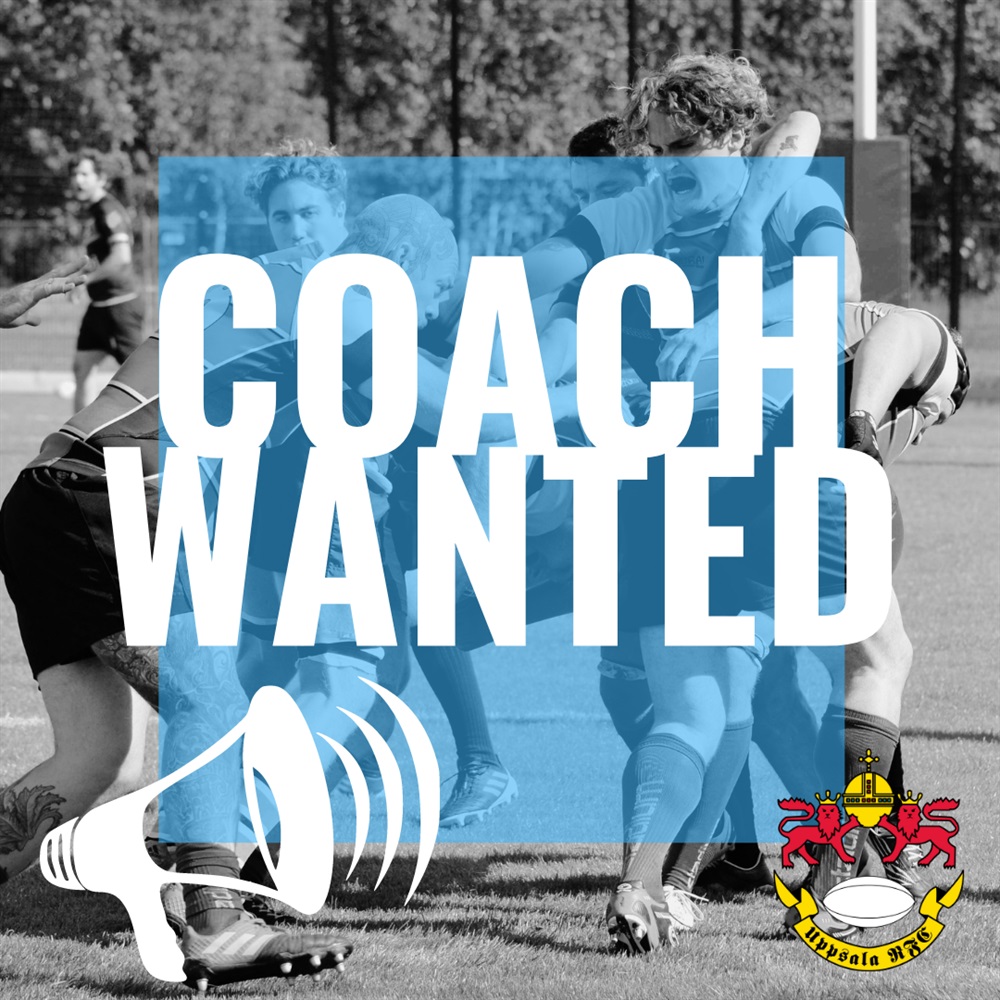 Starting date: 1st of January 2022
Application is open until the post is filled. Please send your application, consisting of a motivation letter (max. 2 pages) and a CV with relevant experience (max. one page) to styrelsen@uppsalarugby.se
Description of responsibilities and duties
Develop a game plan and a fitting training plan for Uppsala's Men's team.
Plan and perform URFC's first Men's team training sessions
Attend and coach all games of Uppsala's Men's team.
Continuously communicate the needs of improvement and development to each individual player.
Communicate and collaborate with U16-U18 teams and players and help developing prospect players.
Actively take part in developing and supporting the club's agenda.
Uppsala RFC
Uppsala RFC is one of Sweden's oldest rugby clubs, founded as early as 1965 and thus recently turned 50 years. Today, Uppsala RFC is a club with almost a 200 members, fielding one women's team, one men's team and a growing youth section with teams in all age groups, from U6 to U16, including a newly started team for girls ages 15-18.
The club's women's team played in the Swedish Championship final in 2005, 2007, 2009 and 2011, where they earned four silver medals. The club's men's team plays in the Swedish second league, but has historically won the Swedish championship three times. Both the women's and men's teams have recently produced national team players.
In-season the club's teams train and play their games at Fyrisfjädern, a good facility, in the city center of Uppsala, with modern equipment and during the off-season the teams train on various Astroturf pitches and indoor sports halls. URFC also have a clubhouse where different types of socials are hosted and where club members meet and socialize to foster an including, nice and warm club atmosphere.
URFC Men's team
The men's team of the club has for the last couple of decades mostly been a social team, made up by a mix of experienced, beginners, young and old players, coached by players or local former players. The current squad consists of 30+ players and the attendance at practices varies a lot over the year.
In the Swedish second league, usually played from the last weekend of April to the beginning of October, the annual number of games is usually around 10 and in addition there is also a 7's competition spread over three weekends. Most away games are played quite close to Uppsala, with the occasional game including overnight travel. URFC has a collaboration with a club in the third league, located an hour away, with whom an exchange of players can occur.
The goals for the future is to have our men's team play in the first (top) league in Sweden, but also to have a second team to develop young talent, help injured players back and provide game time to older players without aspirations of playing in the first team. To reach these goals we aim to recruit a skilled and motivated coach, who can start develop the men's team and its players and the activities.
What do we offer
We will provide help to find a job on the side of coaching if coming from abroad
We will provide help to find accommodation
We offer reimbursement of travel costs to and from trainings, games and other official club events associated with the Men's team.
We offer a per-diem for games and trainings associated with the Men's team attended by the coach.
We offer a monthly emolument, which will depend on the candidate's experience as a rugby coach and player.
We provide a trainer starter kit (training jacket and pants, shorts, shirt, shorts, cap, beanie and whistle).
The coach will be supported by the Men's board representative and a team manager
The candidate
The future coach shall have at least 10 years of combined playing/coaching experience at any levels, but at least 2 years of coaching experience
Official IRB coaching courses or other coaching courses and certificates are beneficial. If no courses have been passed, the coach is expected to take these on own initiative.
The coach is expected to attend at least 90% of the training sessions and games (exceptions may be approved by the board).
The coach shall be interested in developing teams and individual players and recent experiences from this type of work is meritorious as well as any other education relevant for these types of tasks.
Contract
The future coach and URFC will sign a contract based on the club's and coach's expectations and payments the club offers. The contract will define the coach's duties, responsibilities, commitment and attendance, as well as the details of the financial framework (reimbursement, per-diem and other benefits and compensation). Disbursement of any benefits will depend on the coach's attendance and the club has the right to terminate the contract within 1-month notice. If a breach of the club's code of conduct is noticed, the club/board has the right to terminate the contract immediately.
For questions, contact styrelsen@uppsalarugby.se
---