Tight win in Täby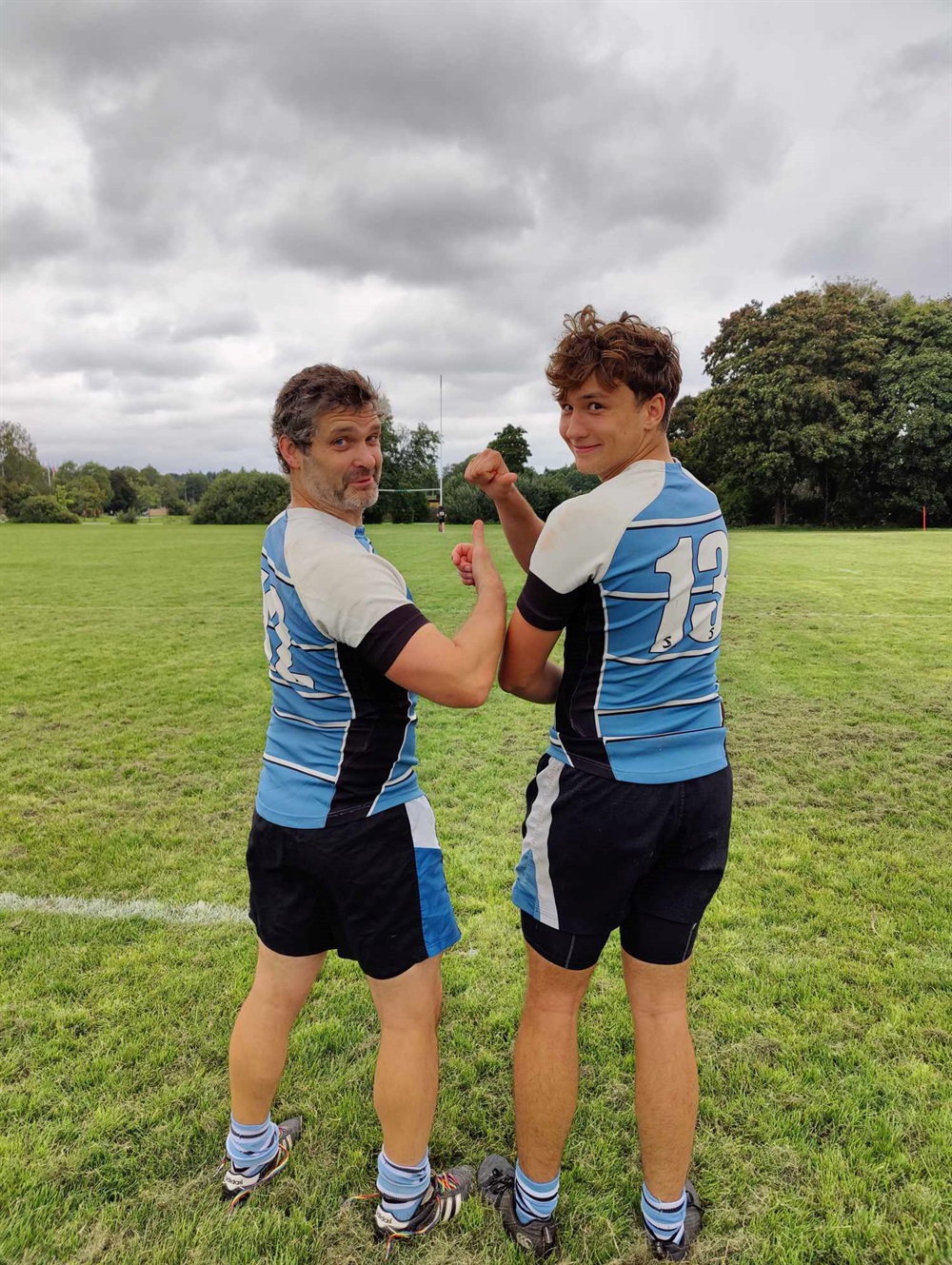 Foto: Hampus Wåhlander
A tired group of plebs met at Ekonomikum on Saturday morning, we crammed ourself into our cars and headed down to Täby. As we arrived we were joined by a few more players and the nervous atmosphere started to make its presence felt. The Erikslund players were soon to arrive and we were given access to the changing rooms. Captain Hampus played some bangers on his speakers and the unanimous feeling if anticipation quickly rose. Erikslund had come out of two straight losses and us Plebs similarly came from a loss and an unfortunate walkover from last week, so this clash was always set to be a big one with both teams absolutely determined to turn their seasons around. The team looked sharp in the warm ups with only a few nervous fumbles. Once the team went back into the changing room to put our jerseys on there was nothing left but pure hype for what was to come.
Erikslund kicked off and there was a huge level of physicality from both sides, determined to assert their dominance over the game. As the Plebs kept possession the first signs of momentum started showing with a few of our carries starting to gain some meters. It didn't take long before coach James Oakley made a clean break, using his dashing pace and glorious footwork no defender was able to get to him meaning he was able to dot the ball down between the post giving inside centre Stew an easy conversion. The Plebs are leading 7-0 and we could not have had a much better start, except we did! Once the game kicked off again it did not take many minutes before James caught an offload and was able to beat a few defenders to finish a try in the left corner. Stew had a solid attempt at the conversion but the ball, sadly, sailed wide of the right upright. The team was absolutely buzzing, but the game would soon take a turn to become a lot more interesting. With the wind in their backs Erikslund kicked off deep and kept high pressure on us deep in our own half, we knocked the ball on and it was time for the first of many scrums in the game. The first scrum was a fierce and even contest that resulted in a reset for Erikslund who on their second attempt managed to get the ball out to launch a strike move with the backs. They were stopped but maintained possession and the battle went on. Varying hard carries with quick back moves the Plebs defence was fiercely tested but remained strong. The ball was turned over, but with the strong wind in our face the clearing kick only just managed to take us out of the 22, hence Erikslund were able to maintain the pressure and eventually found a small crack to score a try that they were not able to convert. As the game kicked off again Uppsala were still held under immense pressure in our own half and even with one of our best ever defensive performances Erikslund managed to sneak in another unconverted try before half time. As the ref finally blew his whistle a very tired team regathered our breath, concluding that even with difficult conditions we held on to a 12-10 lead. Plans for substitutions were made and the hope and determination to see this one out completely engulfed the team.
We kicked off for the second half and our impact players immediately made their presence felt with new energy and speed. A penalty from a ruck and an outstanding kick for touch by Stew gave us a lineout about 10 meters out. We kept our line-out dominance and played a hard crash ball in the midfield, a few more phases followed pulling the defence in for James to get the ball and pretend that he's Finn Russell, throwing a beautiful miss pass over two defenders to Serwan who finished it with a one-handed dive. The conversion was narrowly missed but we had re-gained momentum. The twin Nils and Albin both came on for their first games in quite a long while due to unfortunate injuries and instantly added another dimension to our game with powerful carries and strong tackles. As we returned to the Erikslund 22, 8-man Michael slipped out of a tackle and was then tackled again just meters from the try line. He was, however, still able to free his hands for an offload to captain Hampus Wåhlander who finished the try just left of the posts, resulting in another easy conversion. Erikslund were not about to give up easily and pushed us back to our own try-line, with a well executed snipe their scrum half crossed the line for a try that was later converted. At this point Uppsala started to struggle in the scrums due to injured an tired front rowers, Erikslund made sure to take advantage of it and earned many penalties through it. The team still stood strong in defence but the repeated offences at scrumtime resulted in the referee awarding a penalty try and a firm warning that any more offences would result in a card.
The game was now all drawn at 24-24 with about 10 minutes left, and with this in mind, when a penalty was awarded just inside of the five between the Erikslund 22 and 10 meter lines, Stewart decided to gamble on the penalty kick [Stewart's comment: definitely not a gamble, 100% would get it!]. With a strong and precise strike, the Plebs were back in the lead. A yellow card was though about to follow for us as loosehead prop Niclas got pinged for a high tackle. With 14 men we stayed strong and Erikslund knocked on for a now uncontested scrum. After the scrum a mistake was made causing us to kick the ball out with about five seconds left on the clock. Luckily the Erikslund lineout was stolen by us and the ball was kicked out for the final whistle. The final score was 27-24 to us and blindside flanker Ryan was awarded man of the match for his chop tackles and strong carries. A special shout out should also be given to Pierre Antoine who made his debut, and the twins who both made strong comebacks!
/ Ryan
Starting XV
1 Niclas Larsson
2 Aron Frisk
3 Per Adolfsson
4 Luka Ford
5 Joss Myers
6 Ryan Coupland
7 Hampus Wåhlander
8 Michael Bruun-nielsen
9 Willhelm Hultin
10 James Oakley
11 Serwan Khidr
12 Stewart Devine
13 Otto Klintenberg
14 Ben Mooney
15 Robin Bond
Impact players:
16 Jeremy Shore
17 Noah Kaul
18 Nils Holmgren
19 Albin Holmgren
20 Emil Marklund
21 Pierre Antoine Tranchet
---