Taking the train to Lund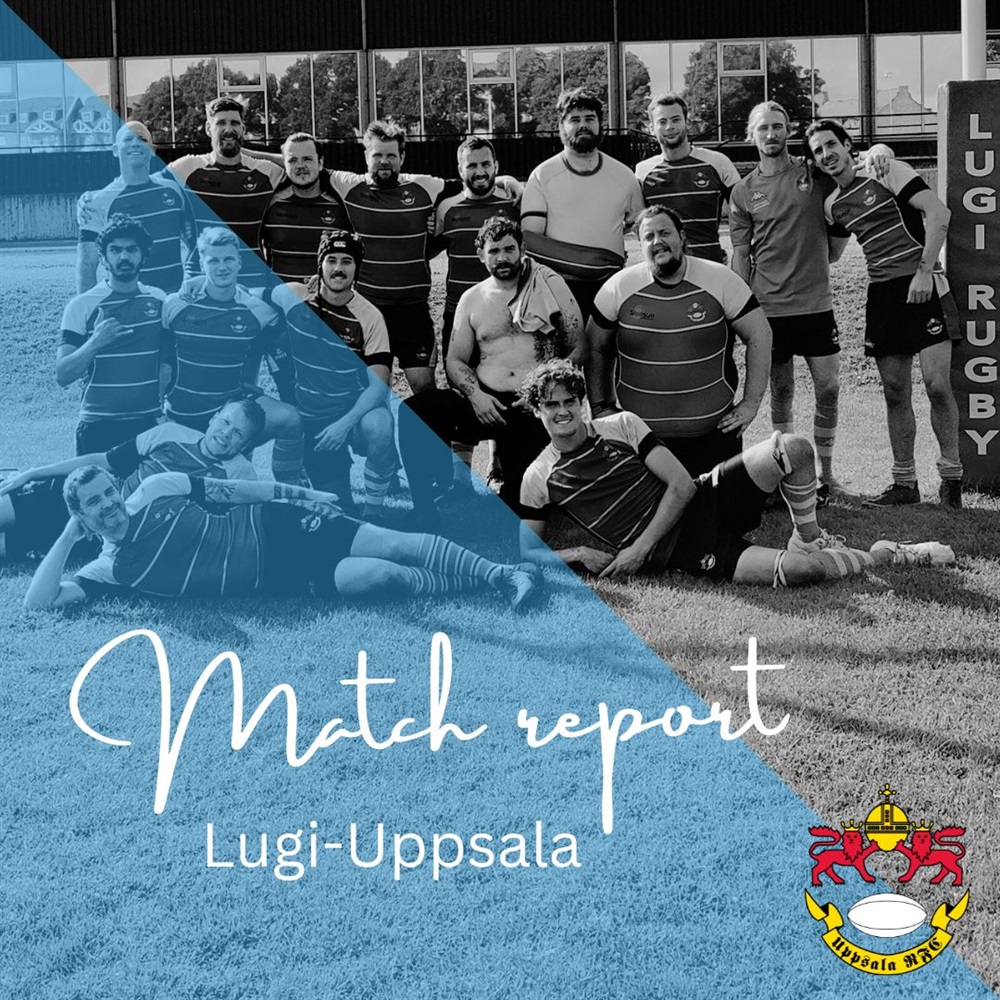 Our mens team started their day early on Saturday, with a long trip south to play Lugi Lions in Lund. After a lovely train journey, filled with quiet conversations and the odd snore, our intrepid squad of 17 arrived in Lund with under two hours left to kickoff.
Unfortunately Uppsala were not able to shake of the effects of the journey and suffered from a slow start to the game. Straight from an Uppsala kickoff, some big carrying by the Lugi no.8, led directly to a home side try. This unfortunately set the tone for the opening half of the game. Uppsala struggled to deal with the blunt force power of Lugi's main ball carrying forwards. An injury after 10 minutes to Joss compounded to issue of Uppsala's small squad, leaving our team with only 1 remaining substitute in reserve.
Despite Lugi's dominance in physical open play, Uppsala were edging the battle in the scrums. Special mention must go to our front rowers (Pelle, Louis, Aron & Anton), who managed to get on top of their Lugi counterparts for the whole game. With the exception of the Lugi big ball carriers, Uppsala were able to keep their opponents attack quiet, with our back three of Larry, Charles & Aniruddha putting their bodies on the line in defence time and time again. When Uppsala did get their hands on the ball, they showed promising patterns in attack, often causing problems for Lugi in the wider channels. This seasons current top scorer, James Oakley, managed to strike back for Uppsala. A combination of good hands and quick feet created space through the middle for our No. 10 to score. The first half ended 42-7 to Lugi.
For the second period our Captain Stewart and Vice-captain Louis rallied the troops and played a 40 minutes of immense effort and heart. Uppsala managed to hold Lugi to only another 14 points. This effort included a series of last ditch tackles, with men being driven into touch and being held up over the line. Our boys finished the game with 14 men, after an unfortunate red card for James Oakley. The game finished with every Uppsala player having left every last scrap of energy out on the pitch. The team arrived back in Uppsala at 23:15, gathered for a rather needed cold beer, before retreating home to their beds!
The final result of 56-7 wasn't what we wanted, but we will train hard to be ready for the return leg in Uppsala on the 24th. The club should be proud of effort and willingness of the 17 players who committed to such a long day of travel and rugby at such short notice. Finally, and most importantly, a massive congratulations to our Man of the Match, Aniruddha Vinayak Kshirsagar, who put in a performance full of strong carries and herculean tackles. We look forward to to seeing you all again on the 24th. Tackle Hard.
---