Massive home win against Exiles B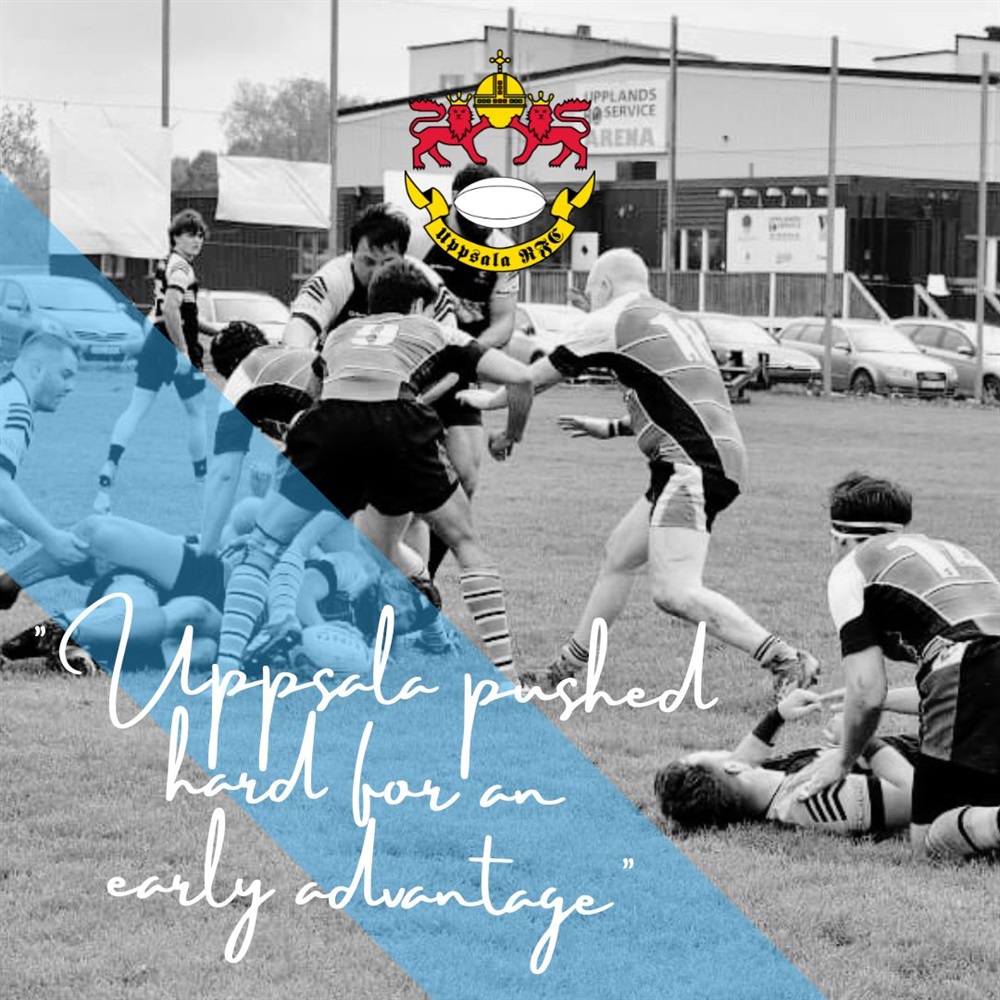 Uppsala went into the match looking for a first home win of 2022 after first losing to Erikslund and then drawing to Hammarby. No member of the current squad was around the last time Uppsala beat Exiles at home, however there was a quiet optimism and buzz around the players from the outset. This was fuelled even more by the fact that Uppsala were able to field a full squad even though they were missing the experience of Per and Hampus in the pack. The squad was also bolstered by the welcome return of Max at fullback and debutant Joel starting at 12.
The game was forced to be played with uncontested scrums as Exiles were unable to field a full front row and things got worse for them right at the beginning when one of their players dislocated his shoulder in the first contact of the game. With opposition heads down, Uppsala pushed hard for an early advantage which forced Exiles into conceding multiple penalties at the breakdown, 3 of which were knocked over by Stewart. Uppsala pressed for the first try but small mistakes in key areas kept Exiles in the game and allowed them to clear. When the breakthrough arrived it was a piece of individual magic from James. After looping Joel, he stepped and went clean through the defence, running in to score from inside our own half. It wasn't long until number 2 arrived and this was a well worked team score. A short lineout was cleanly won and ball went out to Niclas L in midfield. He powered into the opposition backline and the resulting quick ruck ball was sent wide to James who darted through the defence to touch down. Exiles finally woke up and some powerful running combined with ill discipline by Uppsala at the breakdown, allowed Exiles to camp down in the uppsala 22. For over 10 minutes Exiles continued to press with only some last gasp tackles saving Uppsala. It was a heroic effort which was finally rewarded when Exiles knocked the ball on in a dominant tackle. From the resulting scrum, within their own 22, Stewart picked up and ran, the gap opened up and an inside ball was flicked to James who proceeded to scamper 80 m down the pitch to score his hat trick. Halftime Uppsala 26-0 Exiles.
The second half began at a frantic pace and Uppsala lacked composure to build on their lead. The team suffered from white line fever and more often than not, a forced pass went to ground when the better option would have been to set up the ruck. Exiles began to challenge more at the breakdown and started to win a lot of penalties which didn't help the home side. However, Uppsala had too much fire power and soon the tries began to arrive. Anton brilliantly ran through half of the opposition to score a fantastic individual try, Stewart scored from a quick tap penalty, Jacob scored after great vision from Louis and then Anton rounded everything off by scoring another individual try. Exiles battled throughout the game and never gave up and they got their reward midway through the second half. A scrum in the middle of the park was picked up by nr 8 Hamish Mabon. He ran through the defence and then put a great kick through for one of his team mates to run on to and score. Uppsala made a lot of changes in the last 15 mins and while they couldn't add to the score, the team played very organised and structured rugby. It was great to see all of our new players get game time and to watch them put into practice what we have been training all season. Final result 52 -5 to Uppsala.
A thoroughly deserved win to finish the league season and might've been a first home win over Exiles for more than 12 years on the men's side. Niclas L was deservedly awarded player of the match. Time after time he ran with a power and pace that Exiles couldn't live with, constantly making ground and putting Uppsala on the front foot. Dick of the day went to Joel who was yellow carded on debut. A big shout out to Vinnie who played his last game for Uppsala today. Thank you for everything mate, it's been a pleasure having you around and you will always be welcome back to the club. Good luck! This fantastic result means that Uppsala finish second in the league table and will now travel down to Lund next weekend to play Lugi in the first playoff match.
Point scorers
Tries
James 3
Anton 2
Stew 1
Jacob 1
Penalties
Stew 3
Conversions
Stew 3
Emil 1
---