Match report against Katrineholm 28/4-18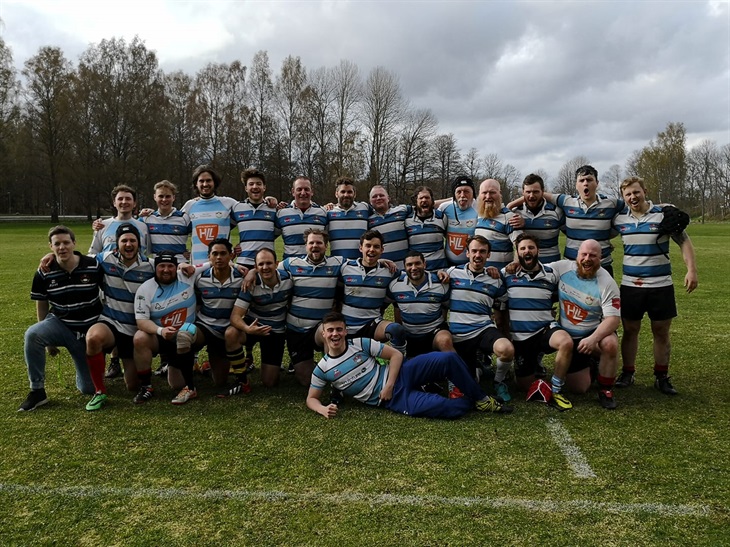 Victorious! Oh boy does it feel good to be able to say that again. After a rough 2017 season Plebs started of 2018 with a bang.
28/4 Plebs went down to Katrineholm to play a friendly game for both teams to warm up for the 2018 season. A large Uppsala squad went down to meet an equally large Katrineholm side. The format being 4 times 20 minutes. Within each 20-minute block Plebs kept the substitutes to the bare minimum, to establish stability and to use the fact that it's a warm up game and to get experience and try out line ups.
There was some light rain before the game for the first quarter but that didn't stop URFC from starting out strong. The first try came within 2minutes of play. After the initial blow Katrineholm managed to stabilize and played a strong physical forwards game. Plebs managed to stick to the game-plan with the forwards sucking in defenders to give the backs all the space they need to break through and score tries. And the tries kept coming throughout the game, with brilliant support lines and great offloads Plebs managed to break over the gain line and keep on going. Katrineholm were not all down and out though. With their grinding playstyle they put Plebs under a lot of pressure deep in our own 22-metre zone. Their resilience and composure lead them to get a penalty try. Thanks to physical carrying and a great solo performance Katrineholm managed to score another try.
When the ref blew the final whistle, Uppsala stood victorious with a score line of 45-12. Special mention to Byron von Pald and Mark Richards who both scored their first tries in the Plebs kits, first of many we hope! We'd also like to give a special mention to Gareth Herrick, his first senior game ever and his first rugby game in 24 years, great stuff!
Thanks to Katrineholm for hosting us to this game, they put up a great fight and a good pitch. We wish you all the best of luck in your game next weekend. Thanks also the the referee Imran for taking his time to go to Katrineholm and ref this game, we appreciate your hard work!
Next up for Plebs is the season premiere at 13/5 away against Stockholm Exiles.
---