9 club mix development game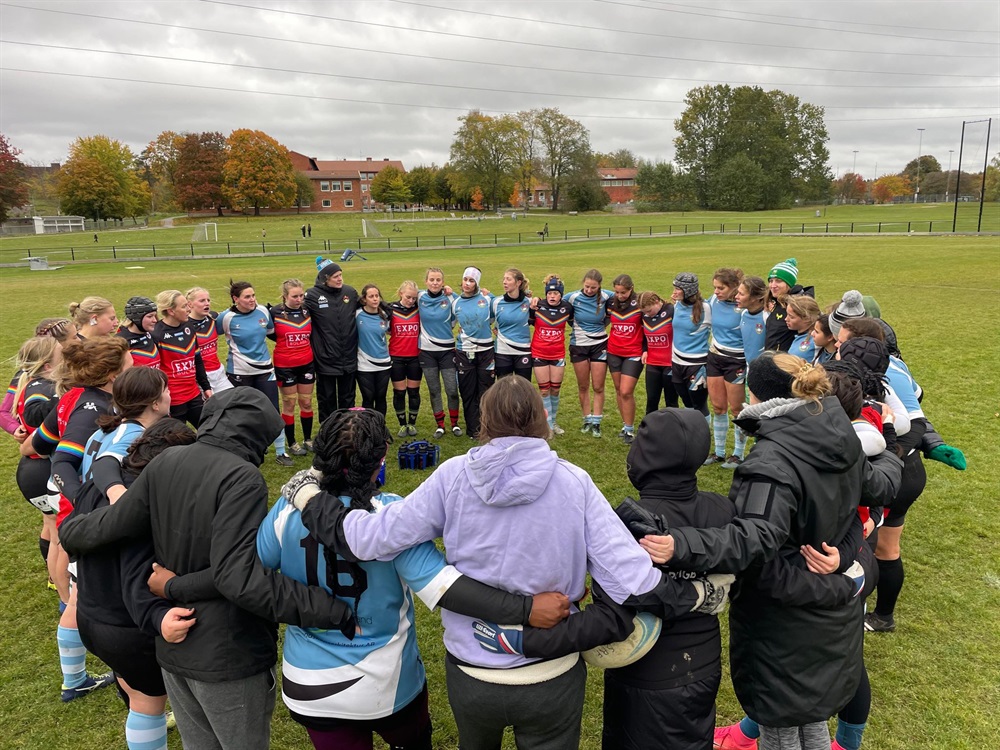 Foto: Iona McLachlan
This weekend several members of the Uppsala ladies and Uppsala F18 girls joined up with 7 other clubs to play a development match at Gubbängen. A total of 36 players from Uppsala, Berserkers, Attila, Exiles, Enköping, Trojan, Hammarby, Södertälje, and Erikslund came together to form two 15-a-side teams allowing rookies and younger members from all clubs the chance to play their first senior 15s game! The match was divided into 4x20 minute sections, and players were spilt into a Blue and Red team with coaches distributing experience and positions as evenly as possible throughout the match.
It was definitely a cold one this Saturday, but the weather wasn't the only thing that hit hard! The first half saw tries from both sides – usually from breakthroughs of a scattered defense. Uppsala ladies' rookie Kristina Kučinskaite broke free and glided over the line to bag her first try for Uppsala. Both teams seemed to stagger a bit with defensive structure during the first quarter, but after comments from the coaches during the breaks, both experienced players and rookies seemed to adapt well and line speed and the overall defensive line improved. Youngster Maud Ringertz from Erikslund had a belter of a day scoring multiple tries and being overall incredibly menacing in both attack and defence.
This Saturday saw many players trying out new positions, with tackling beast and Blues Vice-captain Liv Sixtensson stepping up as 10 and whippet winger Ava Feghi dropping in as full-back! Captain of the Red tribe Amanda Axelsson-Viberg of Uppsala was a strong force at number ten with many successful links executed to the pods and some cheeky steps past the Blue defence throughout the game. Reds vice-captain Dani Ellis of Berserkers had some great runs, and despite succumbing to a foot injury, she returned to the pitch in the second half!
The Blue team was captained by Ia Dahlbacka from Hammarby and although the first half ended with only 3 points between the two teams, the Red team ignited some hellfire in the second half and put an extra 3-4 tries on the blue team. With a few swaps and changes from each side, the younger players in the Red team seemed to outpace the more experienced Blues team. The second half of the match even saw an appearance from Kiwi Coach Wooley, who was met with roaring cheers and applause (and some shock) but got straight into the scrum and put in some solid plays in.
Despite the Baltic temperatures and gushing wind, everyone had a great day and stayed around to watch the Allsvenskan final afterwards.
/ Lauren
---