Wild West rugby against Södertälje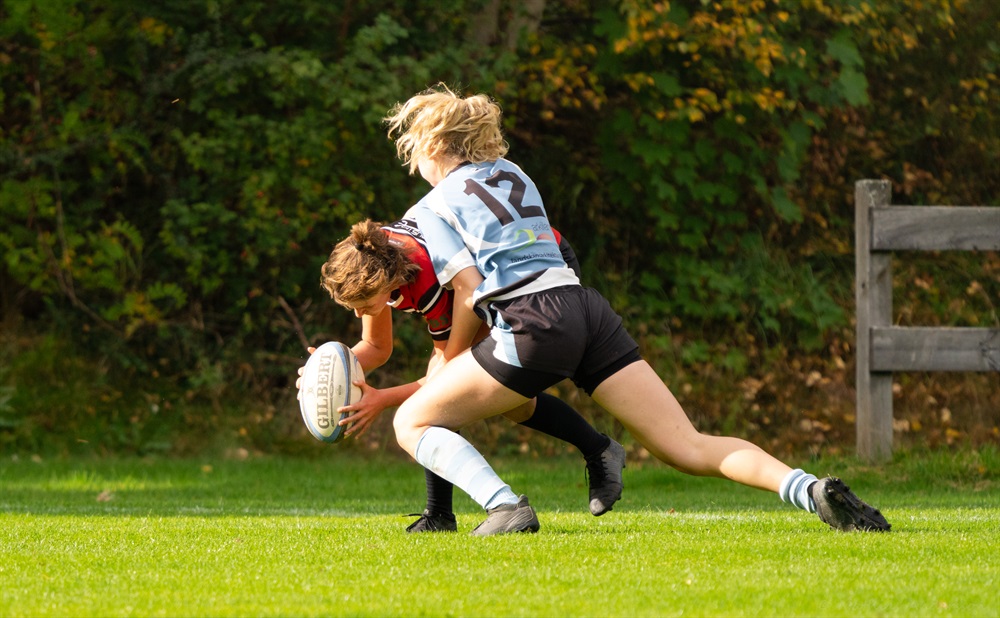 Amanda Axelsson-Viberg i försvar. Foto: @matte54
The last day of September saw Uppsala/Berserkers travelling to Södertälje to play the combined team of Södertälje/Kalmar (that also included players from Trojan and Hammarby). On the blue bench was a couple of Hammarby players as well, keen on some game time. The game was initially thought to be a friendly, but it was decided to see it as a rescheduling of the cancelled league fixture from earlier this year.
URFC/Berserkers started strong with a few phases culminating in prop Hanna Ingvarsson diving over the line, scoring her first try for the senior team! The next 20 minutes saw them continue to score unanswered points before slowing down the pace. Coach Hanna on the side was clearly torn between joy from seeing the team attack successfully and frustration from basically every player of the field going on inspired solo adventures instead of working together - something she in no uncertain terms told the squad during half time. Discipline could definitely be better as the team gave away a fair few penalties, mainly for not rolling away fast enough in the rucks. Uppsala/Berserkers were also encouraged (read: ordered) to cut down on the number of stupid offloads...
The second half was more of an even affair, where the blue away team especially struggled to contain the powerful 8 and 4 in Södertälje, missing several tackles which cost them on the points board. There was no shortage of scrums this day, but despite making good use of the rolling subs the Uppserkers pack stayed solid through all changes and provided a good base for the backs to attack. Pod work also shaped up conciderably in the second half looking more structured and less Wild West.
The game ended with an away win 17-58 for URFC/Berserkers and there were many positives to take. In coach's own words: "we gained metres in all attacks and in defense we stole a few balls and counter rucked well." It was a great debut game for both Armance Gouny and Kristina Kučinskaite, the latter being a rookie recruit (!) showing a lot of promise.
/ Josefin
Point scorers:
Ava 10 p
Maud 10 p
Steph 8 p
Amanda 5 p
Sigrid 5 p
Liv 5 p
Josefin 5 p
Mie 5 p
Hanna 5 p
---