Ladies tour report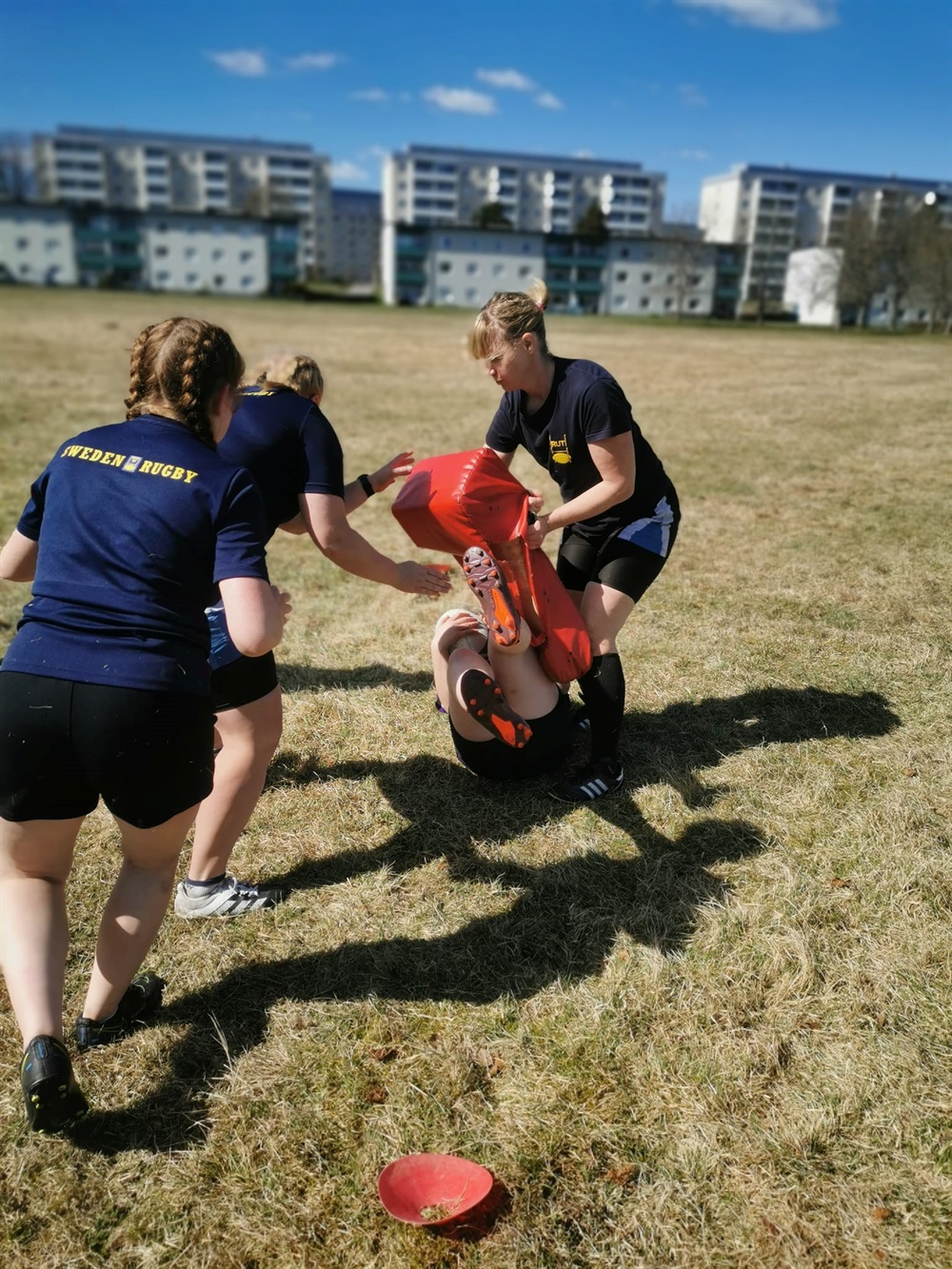 Fredagens träningspass - äntligen på gräs! Foto: Louis-Alassane Cassaignard-Viaud
Happy and excited we left a sunny Uppsala on Thursday night! We arrived at Karlstad around 21.30 and checked in to the cozy rooms at Carlstad City hostel. The gang had different methods to get ready for the next day. Some went out and some stayed in.
Friday morning we woke up to a sunny and warm Karlstad, ate breakfast at the hostel and went to the pitch! There we had an intense but very good tackling session prepared by the tour coach Luca Illing. After lunch we focused on line outs, scrums and the backs did some moves! Later on the amazing tour captains had organised different games (where clothes were not always mandatory. We won't elaborate as What goes on tour etc.). We had dinner at Scandic hotel and then court was on. We also did a paquito, were we made each other fly!
Saturday we woke up to another sunny but a bit windy day. Some were nervous but all were excited for game day! Before lunch we had a joint training session with the Karlstad team. The men's game kicked off at 14 and they played really good! At 16 our game started and we were off to a rusty start with a try for Karlstad and an injury in our team, meaning fullback Liv Sixtensson had to go off, and forcing the rest of the team to play the whole game without any subs. Luckily, we had or 16th player ready to go on, and Linnea Hallström from our farm club Gefle Rugby Club did a great job in the back line! After Karlstads first try, our team worked their way quickly back into the game, when Elsa Nord scored a try by a quick tap and go close to the try line. The game went on and even though we had a lot of girls who had never played a game before, every single one of them played like they had never done anything else! They showed no hesitation going in to contact and there were a lot a massive hits!
During the game Josefin Devine, Elina Brode and Ava Feghhi scored a try each, while Ana Grzeszczak scored two! Isolde Limé did a great job taking on the role of captain for the first time, she held the team together making sure everyone knew what they were doing before the game started. She also scored us an conversion. Karlstad gave us a good game but in the end we won by 29-26 (yes, official scores double checked with the ref!). All in all our ladies played an amazing game and we're going in to the season feeling strong!
Sunday was a day for recovery and match analysis. The ladies went through a light yoga session and finished with an ice cold dip in Vänern, after noting down a few points each about the team's strengths and weaknesses during the game. Last but not least a big shoutout to the fantastic Tour General Devine who made this super fun trip happen!!
//Liv
Footage is available of 75 % of the game: [Del 1] EWR vs Uppsala - 2022-04-23 - YouTube
Starting lineup:
1. Emma Holmgren
2. Elina Brode
3. Rebecca Andrén
4. Lotta Wiik
5. Josefin Olsson
6. Hanna Ingvarsson
7. Elsa Nord
8. Josefin Devine (VC)
9. Ava Feghhi
10. Isolde Limé (C)
11. Ana Grzeszczak
12. Hanna Kantola
13. Lauren Davies
14. Elsa Hannerz
15. Liv Sixtensson
Supersub:
25. Linnea Hallström
---