Second half surge secure win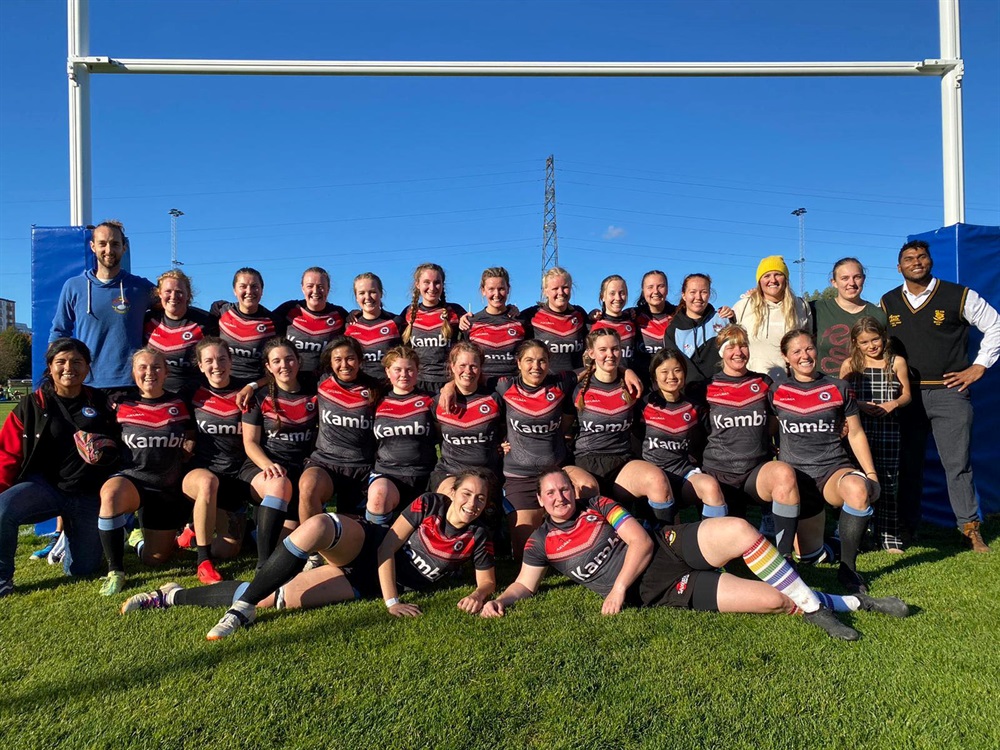 Uppsala Berserkers, för dagen i Berserkers rödsvarta kit
This Saturday, our Uppsala Berserkers ladies played their last group stage match against Hammarby. After a week of heavy rain and autumn weather, Saturday dawned with a splendid sunshine that called for a great rugby day. Berserkers ladies were waiting for our girls in Stockholm to start pre-match preparations a.k.a music, braids and a lot of taping. After a good warm up to get the body ready for the next 80 minutes, our girls were all ready to go out onto the pitch and enjoy the game. A match that undoubtedly stood out for being crazy physical and bringing up all kind of emotions.
The first half of the match was fairly even in terms of points as our girls did not have the opportunity to do much else than defend. After 9 minutes Mimmi Nöjd got our girls on the scoreboard. However, the lead did not last long as we went to the break with a 7-5 in favour of Hammarby. Our girls were not sure what was going on as their game was not flowing and the constant penalties against them were not allowing them to kick-start their game as they had trained. But a good talk and guidance from our coaches at half time and one more try in favour of Hammarby was enough for our girls to wake up and put into action everything they have been training for the last weeks. Thanks to a good team game plan Linda Håkansson then had the opportunity to break through the defense on several occasions and put Uppsala Berserkers ahead on the scoreboard with 19-17. Maria Karlefeldt and Nicole Savage soon joined Linda in adding to the score for Uppsala Berserkers. Linda's good kicking skills is worth mentioning as she also added points after each try.
The day ended 33-17 in favour of our girls, who after celebrating the victory have already set their minds on their next match next weekend, when Uppsala Berserkers go down south to play against Vänersborg in a ranking game. We would also like to wish Isolde Limé a speedy recovery, who was forced to leave the field earlier than she would have liked after suffering a bad shoulder hit.
Starting XV
1. Astrid Petterson
2. Ana Grzeszczak
3. Maja Hedengren
4. Fanny Hällegård
5. Lotta Wiik
6. Berta Garrido Zabala
7. Elina Brode
8. Patrice Freeman
9. Emma Kullberg
10. Isolde Limé
11. Hanna Kantola
12. Linda Håkansson
13. Francesca Santos
14. Maria Karlefeldt
15. Mimmi Nöjd
Subs
16. Johanna Blanck
17. Hikari Fuchigami
18. Nicole Savage
19. Ingrid-Maria Lindström
20. Liv Lundberg Sixtensson
21. Rebecka Antonsson
22. Lauren Davies
23. Iona McLachlan
---