Big defensive effort against Gothenburg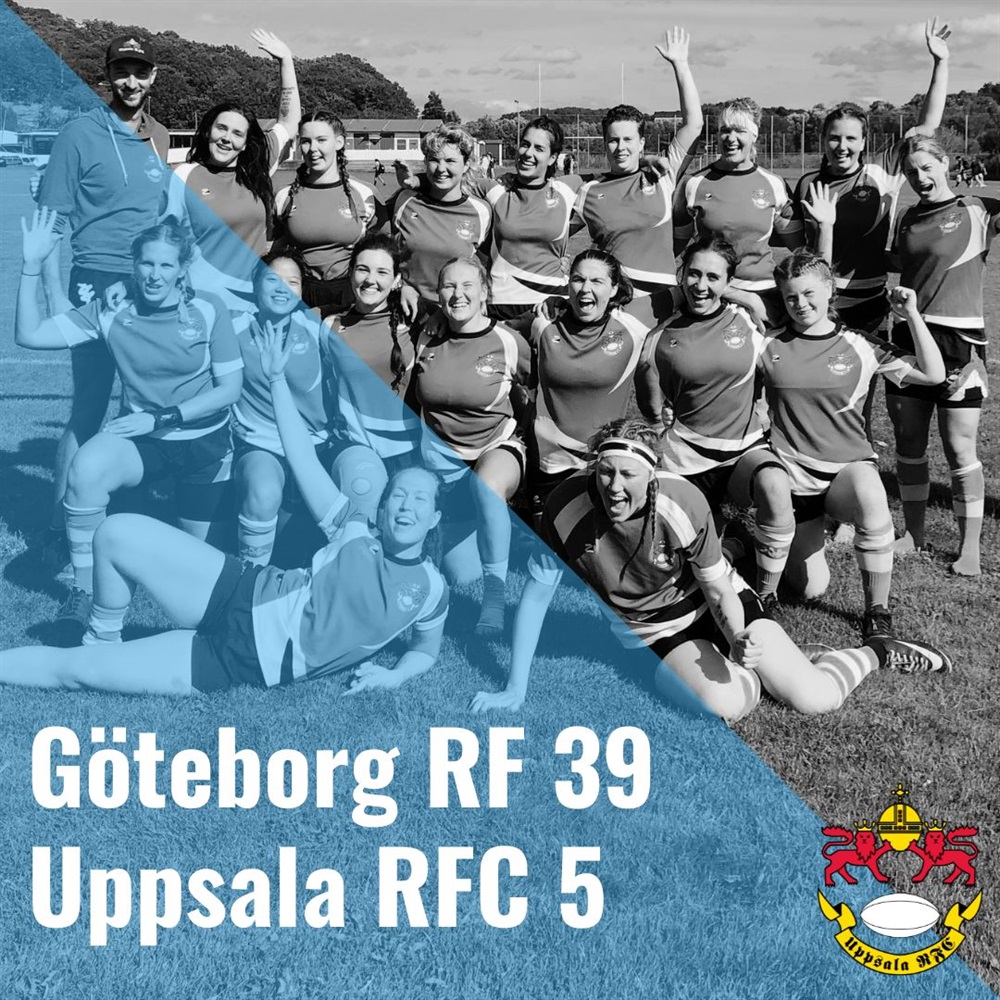 Photo cred: nice Gothenburg guy from the side line
Game prep included a Friday night roadtrip and team meeting at our hostel outside Mariestad. The atmosphere was positive and everyone was up for a challenge, knowing that the starting XV was somewhat changed up from previous games. It was 15's premiere for second row Micaella Bruton and a first game as flanker for Elsa Hannerz, not to mention Liv Sixtensson as fly half instead of regular skipper Isolde Limé who, just back from injury, was starting on the bench. Josefin Devine at no 8 was set to captain the team in her absence.
On Saturday the team arrived in Gothenburg 2 hours before kickoff. Weather was sunny and a fair bit windy, something that would disrupt most of the lineouts during the game. Players seemed focused during the warm up, and when Uppsala kicked off the feeling was that these underdogs could do better than expected. Up against an experienced team machine like Gothenburg a lot of tackling was expected though. The home team have a skilled back line and some heavy power runners, making Uppsala scramble in defense more than once. Nevertheless, the first 20 mins the score remained zero for both teams. URFC had very little possession throughout the game, and was turned over more that once after going into contact without enough support. The scrum was surprisingly stable considering the size difference between the teams and was one of the highlights of the day.
The first half of the game was made even tougher when Uppsala fullback Hanna Kantola received a yellow card and had to contemplate her sins on the side for a while. Gothenburg made sure to benefit from this and pushed in a few more points when they had a constant overlap. The second half was spent in much the same way (apart from being 15 on the pitch again), with glimpses of potential and some great tackles from Uppsala, but lack of experience as a team making it difficult to convert their attacks into points. The one score came from a team effort, shifting the ball wide and ending up in the hands of Liv Sixtensson, who managed to dive into the left corner to much cheer and celebration from her teammates.
Despite the final score recording a clear 39-5 loss, the Uppsala players left the pitch feeling that their team had taken a step forward. With a little more experience together, the Uppsala ladies will be able to play a faster game without losing the team structure. Bring on the rest of the season!
Player of the day: scrumhalf Rebecka Antonsson
Dick of the day: coach Antony Pilkington
Starting XV:
Rebecca Andrén
Elina Brode
Emma Holmgren
Lotta Wiik
Micaella Bruton
Elsa Hannerz
Elsa Nord
Josefin Devine (VC)
Rebecka Bex Antonsson
Liv Sixtensson
Ana Grzeszczak
Ida Westerholm
Linda Håkansson Brinklert
Ava Feghhi
Hanna Ida Dalia Kantola
Subs:
Amelia Mutter
Isolde Limé (C)
---